Press Releases
WASHINGTON – Today, U.S. Sens. Mark R. Warner and Tim Kaine (both D-VA) announced $19,962,161 in funding for the Appalachian Development Highway System (ADHS) to help further connect Virginia's Appalachian region to national Interstates. The funding, awarded through the Federal Highway Administration (FHWA) in coordination with the Appalachian Regional Commission (ARC), was made possible by the bipartisan infrastructure law negotiated by Sen. Warner and supported by Sen. Kaine.
"We are pleased to see these infrastructure dollars headed to Virginia, where they'll help further connect Appalachian communities and maximize economic opportunity in the region," said the Senators. "We're proud that the bipartisan infrastructure law is dedicating the resources needed to advance this crucial development project."
The ADHS is a 3,090-mile network of highways linking the Appalachian region to national Interstates, which provide access to regional and national markets, contributing to growth opportunities and improved access in Appalachia. The bipartisan infrastructure law represents the first sustained, robust, and dedicated support for the system in a decade, since funding for ADHS was not provided by Congress from 2012 to 2020.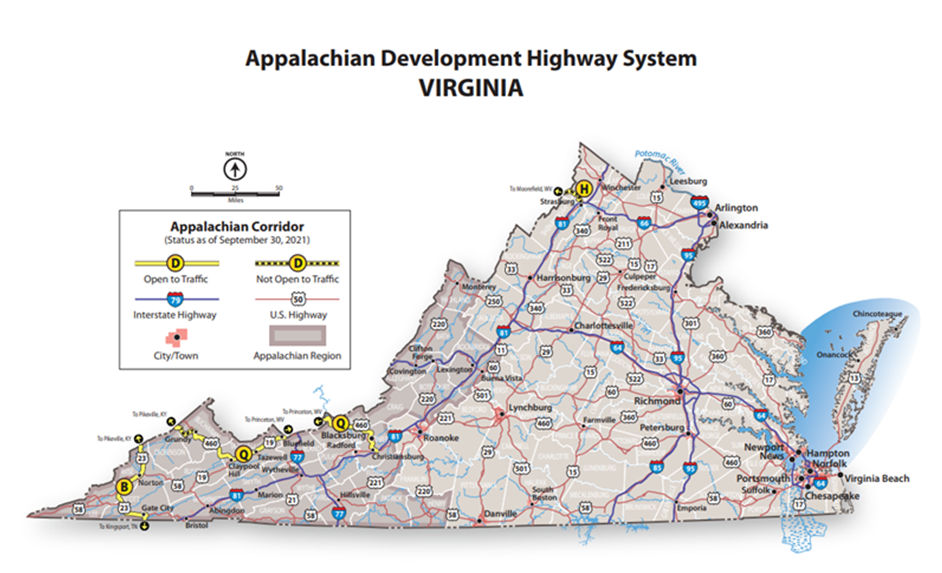 As of September 30, 2021, Virginia's ADHS corridors consist of 204.6 miles, with 192.2 miles currently eligible for funding. The estimated cost to complete Virginia's ADHS corridors is $440.5 million – $172.9 for Corridor H, which runs from the West Virginia State line to I-81 at Strasburg, and $267.6 million for Corridor Q, which runs from Breaks Interstate Park at the Kentucky State line to I-81 at Christiansburg. Corridor B, which runs from Weber City at the Tennessee State line to the State line near Jenkins, Kentucky, is currently complete.
ARC is an economic development partnership agency of the federal government and 13 state governments, focusing on 420 counties across the Appalachian Region. ARC's mission is to innovate, partner, and invest to build community capacity and strengthen economic growth in Appalachia to help the Region achieve socioeconomic parity with the nation. Since 1965, ARC has invested $4.5 billion in approximately 28,000 economic development projects across Appalachia, attracting over $10 billion in matching project funds.
###