Priorities
Mark Warner Plays Pivotal Role in Democrats' Large-Scale Spending Plans
by Andrew Duehren
in Wall Street Journal
WASHINGTON—When talks among Democrats about a raft of antipoverty and climate-change measures began, Sen. Mark Warner (D., Va.) assumed that lawmakers would agree to spend less than the $3.5 trillion plan announced this past week.
The centrist lawmaker said he is worried about inflation and the rising U.S. debt burden and came to the talks with different policy priorities than some of his party colleagues. After weeks of negotiations between Democrats on the Senate Budget Committee and a series of calls from President Biden, he came around to the larger figure, which would be distributed over 10 years and paid for with tax increases—conditions he said eased his concerns.
"The president asked me to stretch, and I think I stretched," Mr. Warner said in an interview.
Now the former governor and telecommunications investor has to help persuade members of both parties to stretch in support of different parts of Mr. Biden's economic agenda. Mr. Warner, as the only lawmaker directly involved in crafting the $3.5 trillion agreement among Democrats as well as negotiating a roughly $1 trillion infrastructure package with Republicans, holds unique sway in the parallel talks.
He will help determine whether all 50 members of the Senate Democratic caucus can hold together on both bills, while still persuading at least 10 Republicans to join them on infrastructure. The two-track approach will be tested next week, when the first vote on advancing the infrastructure package, which requires 60 votes, is expected.
As a result, Mr. Warner said he now splits his time between cajoling Republicans to broaden their legislative ambitions and pleading with Democrats to narrow theirs.
"It's been a weird yin and yang," he said of the two packages.
Just turning the initial $3.5 trillion agreement between members of the Budget Committee—where Mr. Warner serves as the most centrist Democrat—into legislation that earns the support of all 50 members of the Senate Democratic caucus, he said, is "going to be probably the hardest thing legislatively the Senate has done."
His success in doing so will depend in part on the viability of a negotiating style, honed in the Virginia governor's mansion, that current and former associates say prizes building interpersonal relationships and stressing bipartisanship—two attributes that can be hard to pursue in an increasingly polarized and partisan Senate.
L. Preston Byrant Jr., a former Republican delegate in the Virginia House, said Mr. Warner spent weeks building Republican support for a 2004 tax package while he was governor, courting GOP lawmakers over dinners in Richmond restaurants, drinks in the governor's mansion and late-night phone calls.
"He's a deal maker," Mr. Bryant said. "I think he fully recognizes that the true center isn't always neatly achieved. Sometimes it's going to be a little left of center or right of center."
From his perch across the Potomac, Mr. Warner hosts many social events, including a pig roast almost annually at a farm he owns in King George, Va. When negotiations over a Covid-19 aid deal stalled for months last year, Mr. Warner suggested that a bipartisan group of senators meet for dinner to try to kick-start the talks. The group ended up meeting at the home of Sen. Lisa Murkowski (R., Alaska) on Capitol Hill.
That outreach helped lay the groundwork for the $900 billion agreement Congress approved in December, a bill Democrats followed up with a $1.9 trillion Covid-19 relief effort after they took control of the White House and Senate.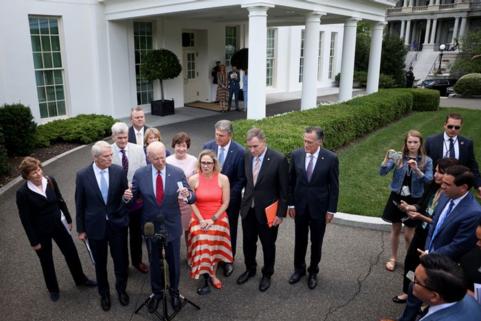 Many of those lawmakers, including Sens. Joe Manchin (D., W.Va.), Mitt Romney (R., Utah) and Susan Collins (R., Maine), are now negotiating the infrastructure agreement, which would provide roughly $600 billion above expected federal spending on roads, bridges and water projects.A White House official said Mr. Warner's private-sector experience and facility with numbers have been an important resource for Democrats.
In the infrastructure talks, Mr. Warner has pushed for funding new resources at the Internal Revenue Service to collect more revenue from taxes owed but not paid, an idea that Mr. Warner in part credits former Trump administration Treasury Secretary Steven Mnuchin, another dinner partner, with introducing him to it.
Some Republicans critical to the deal's success have more recently started raising concerns about the IRS plan, prompting lawmakers to search for other alternatives that could still pay for all the proposed spending.
Figuring out how to finance a major spending plan is set to be a central challenge as Democrats move forward with the $3.5 trillion package. Republicans have attacked the plan both for its large-scale spending and tax increases, saying they would fuel inflation, likely expand the federal deficit and harm the economy.
Senate Majority Leader Chuck Schumer (D., N.Y.) has said he wants all 50 Democrats to reach an agreement on the outline by Wednesday. Mr. Warner was in touch with other centrist Democrats about the $3.5 trillion figure during the talks.
"And you know just because I got to a certain number doesn't mean they will," Mr. Warner said of the other centrist Democrats. "But I think they'll give me a chance to make my case why I think this is the moment, this is the need, and these are the initiatives."
Like some other Democrats, Mr. Warner favors a 25% corporate tax rate, an increase from the current 21% but below the White House's proposed increase to 28%. The White House is also seeking to raise the top capital gains rate to 39.6% from 20% and uniformly apply an additional 3.8% surtax to bring it to a total 43.4%. Mr. Warner said he supports a 28% top capital gains rate and has reservations about Mr. Biden's plan to tax unrealized gains at death.
Those will be among the many areas, including how to design the various healthcare provisions in the package, where Mr. Warner expects Democrats to have sharp disagreements as they write the specifics of the package.
Mr. Warner, who is also the chairman of the Senate Intelligence Committee, is confident that consistent contact and communication with his colleagues will ultimately be enough to resolve those differences. An oenophile, Mr. Warner provided wine to Senate Democrats on the Budget Committee on Tuesday night as they reached their $3.5 trillion agreement.
He later emerged from the closed-door meeting to announce the deal alongside Mr. Schumer and Sen. Bernie Sanders (I., Vt.), the latest step in the long climb that the $3.5 trillion deal and the infrastructure effort face.
"None of these things ever happen on a straight line," Mr. Warner said. "I've never been in one of these deals that didn't have hiccups, or near-death experiences."