Priorities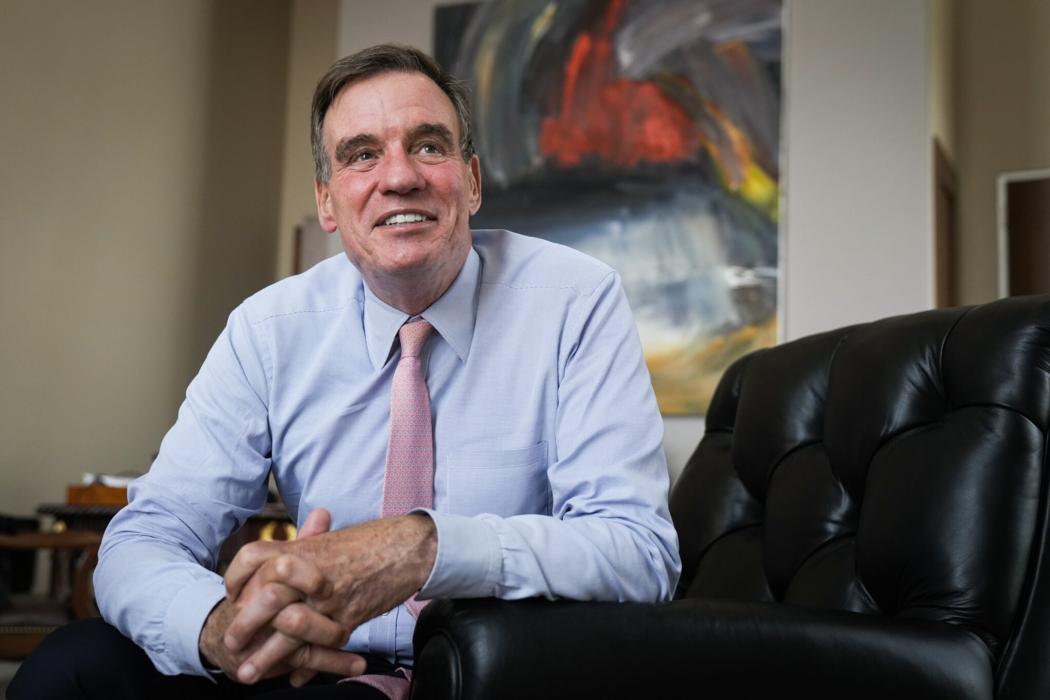 Mark Warner, a 'Business Guy' Democrat, Lands Back in the Fray
by Jonathan Weisman
in New York Times
WASHINGTON — In his days as Virginia's governor, Mark Warner had a reputation for playing rough under the boards with young Republican lawmakers on the basketball court. But he would follow his flying elbows with a pat on the back, a wry smile and often an invitation to the governor's mansion for Grey Goose vodka shots.
And to this day, Republicans marvel that the "business guy" Democrat in 2004 persuaded 17 Republicans in a G.O.P.-dominated legislature to remake the state's finances with a $1.36 billion tax increase.
Seventeen years later, Mr. Warner is a senator and back in the fray, a central figure in negotiating both a bipartisan infrastructure dealand an ambitious budget blueprint packed with Democratic priorities — two measures whose success or failure will determine the fate of President Biden's agenda.
Mr. Warner's shuttle diplomacy reflects the difficult endeavor Democrats and Mr. Biden are attempting this month, as they labor to unite the party around a far-reaching $3.5 trillion spending plan, build and hold together a fragile bipartisan coalition in favor of the infrastructure measure, maneuver around arcane Senate rules and time it all perfectly.
Huddling with four other Democrats and five Republicans, Mr. Warner has been trying to nail down as rich an infrastructure package as he can get. On the Budget Committee, he is a crucial moderate emissary for Senator Chuck Schumer of New York, the majority leader, trying to rein in the social spending ambitions of the committee's irascible socialist chairman, Senator Bernie Sanders. And on the Finance Committee, Mr. Warner has been a pro-business voice working to devise the tax increases needed to pay for all that spending.
"He really is the linchpin," said Senator Tim Kaine, Virginia's junior senator, who was Mr. Warner's lieutenant governor and then his successor in the governor's mansion.
On Thursday, that linchpin was showing signs of strain. Mr. Schumer rankled Republicans when he announced he would force a test vote as early as Wednesday on the still-unfinished infrastructure deal, raising the pressure to finalize it. He set a similar deadline for Senate Democrats to agree on a budget resolution.
An old nemesis, the anti-tax activist Grover Norquist, was once again bedeviling the Virginian. When Mr. Warner was governor, Mr. Norquist's Americans for Tax Reform vowed to exact revenge on any Republican who went along with Mr. Warner's tax plan. Now, Mr. Norquist is threatening any Republican who agrees to a critical financing mechanism to pay for roads, bridges, tunnels and rail: beefing up the ability of the I.R.S. to collect unpaid taxes. If Mr. Norquist succeeds in killing the idea, it could blow a $100 billion hole in the plan Mr. Warner and others have been toiling to seal.
"It's been an interesting week," Mr. Warner said on Thursday afternoon in his spacious Senate office, after the latest infrastructure talks broke up without agreement.
Mr. Warner has spent much of his 12-year Senate career despairing about the dysfunction of the institution and grumbling that his acumen and savvy were not being tapped.
His urgent calls to cut Social Security and Medicare benefits to save the nation from its rising debt went unheeded. His claims to be a "radical centrist" were, he conceded, often mocked.
He was, he said, "a slightly whiny senator who got to sleep in his own bed every night."
But with Democrats holding the tiniest of Senate majorities and Mr. Biden promising to pursue bipartisanship, his party is in desperate need of a dealmaker. And Mr. Warner, who built a fortune in telecommunications, has always been a numbers guy.
"Temperamentally, this is the kind of space he enjoys occupying, and he's tried to occupy for a while," said Paul Nardo, who was the chief of staff to the Republican State House speaker when Mr. Warner was governor. "Lo and behold, we're at a moment when someone with those skills can have a direct effect."
Mr. Warner's roles are multiple.
Mr. Schumer wanted him deeply involved in the search for an infrastructure deal, convinced that Democrats needed someone with the same accounting acumen that Republicans were bringing to the table with Senators Rob Portman of Ohio, a former White House budget director, and Mitt Romney of Utah, a former governor and investment executive.
At the same time, Democratic leaders needed a voice in budget talks with Mr. Sanders who could represent the interests of moderates like Joe Manchin III of West Virginia and Kyrsten Sinema of Arizona — and ultimately win their votes.
Finally, Senator Ron Wyden of Oregon, the chairman of the Finance Committee, tapped Mr. Warner and a pro-labor committee member, Senator Sherrod Brown of Ohio, to hash out a restructuring of the international corporate tax code to raise some of the money needed to cover the spending surge — and try to dissuade American companies from shifting profits and jobs abroad.
In those overlapping roles, Mr. Brown described Mr. Warner as "frenetic — in a good way."
"He strikes me as a kind of shuttle diplomacy guy," Mr. Brown said. "He moves fast, and he moves back and forth."
Despite boasts of "radical centrism," Mr. Warner is not particularly conservative. Mr. Sanders wanted as much as $6 trillion to play with in a budget package that would include universal prekindergarten and community college, child care subsidies, expanded Medicare coverage, the first real federal effort to combat climate change, paid family leave and a host of other items long pushed by Washington's liberal wing.
Mr. Warner wanted much less. Even the 10-year price tag they agreed on, $3.5 trillion, was "the absolute edge my comfort zone," he said.
For Faiz Shakir, a close adviser to Mr. Sanders who managed his presidential run in 2020, the negotiation between the two men showed how far Democrats had come since 2015, when party stalwarts feared that Mr. Sanders, a Vermont independent, was going to tear their coalition apart.
"In 2015, Warner had serious concern about what Sanders was doing to the party," Mr. Shakir said. "Six years later, he has won much of the policy argument and has Warner's respect."
As Mr. Warner describes it, both men are equally ambitious. Both want to fundamentally reshape American capitalism, Mr. Sanders through top-down government power, Mr. Warner by using government to prod market forces.
Mr. Warner said the current tax code rewards businesses for investing in things, offering tax breaks, for instance, to offset the cost of a labor-displacing robot. Mr. Sanders would empower unions to block that robot. Mr. Warner wants to offer similar tax incentives for investments in people, to train them to become more efficient than that robot.
In the tax talks, Mr. Warner is mindful of business interests, but he has accepted that there are what he calls fundamental imbalances that need to be fixed. Multinational corporations are too easily escaping taxation by shifting profits and operations abroad, he said, the tax cuts of the Trump years lowered business taxes far too much and the richest of the rich are, in some cases, avoiding federal taxation altogether.
"Warner recognizes, as one of the wealthiest guys here, that people in his social class, shall we say, don't pay their fair share of taxes," Mr. Brown said. He added, "He may not want me to call him a progressive compared to me, but he's clearly a justice Democrat."
But the trappings of all that wealth have helped Mr. Warner over the years. He ran for governor as a new kind of Democrat, a businessman who would get the state's finances into shape. He used basketball games at the gym of Virginia Commonwealth University in Richmond to wear down his opponents. His sumptuous dinners and lavish fund-raisers for colleagues in his Alexandria mansion have created bonds — and also debts he can call in, said Ellen Qualls, a longtime former aide.
"He has done a lot of stuff for these people he has to get to agree now," she said.
He doesn't always wear his wealth on his sleeve. During frenzied bipartisan negotiations on the $900 billion Covid-19 relief package late last year, Mr. Warner logged onto a Zoom session in a ratty old T-shirt, drawing ribbing from colleagues who demanded to know how such a rich senator could dress so poorly.
Amid all the talk of deal-making and progress, Congress and Mr. Biden remain a long way from securing their ambitions. No infrastructure legislation exists. The $3.5 trillion social and environmental bill, a transformative piece of legislation, is months away — if it ever happens.
So far, Mr. Warner appears to be enjoying the pressure.
"For someone who complained for a number of years here that I'm not using all my tools, now I need a lot more time just to move all these projects forward," he said. "I like being in the mix."