Press Releases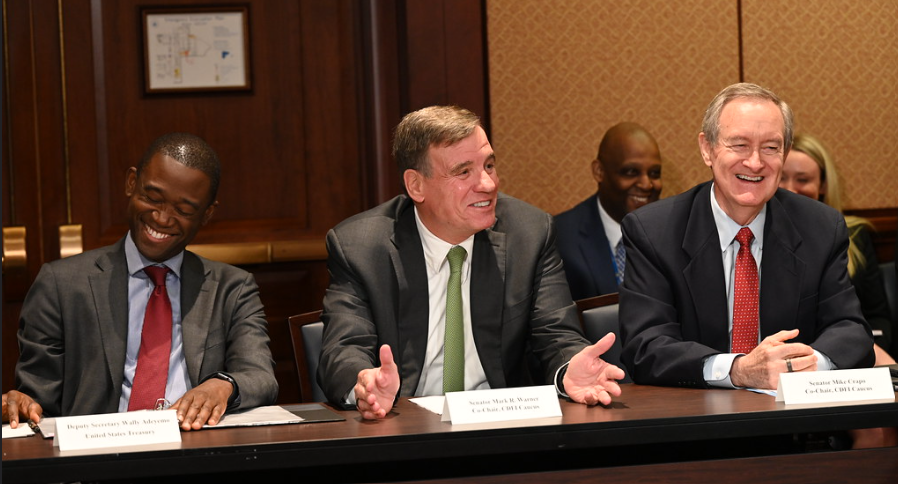 CLICK HERE TO DOWNLOAD HIGH-QUALITY PHOTOS FROM THE EVENT
WASHINGTON – U.S. Sens. Mark Warner (D-VA) and Mike Crapo (R-ID), co-chairs of the Community Development Finance Caucus, along with Deputy Secretary of the Treasury Wally Adeyemo held an event today on Capitol Hill with corporate and banking leaders to announce that members of the Economic Opportunity Coalition have reached their goal of securing $1 billion in committed deposits in Community Development Financial Institutions (CDFIs) and Minority Depository Institutions (MDIs) in order to expand their lending power for underserved communities and small businesses emerging from the pandemic.
The private sector funding will boost public efforts to strengthen and grow the lending capacity of CDFIs and MDIs, which included a record $12 billion federal investment to help underserved communities access affordable capital secured by Sens. Warner and Crapo as part of the bipartisan COVID relief package approved by Congress at the end of 2020. The additional deposits announced today will help to bring down loan-to-deposit ratios at these institutions, which will allow them to increase their lending further while ensuring they maintain adequate liquidity.
"Strengthening minority and community lenders will help unlock the economic potential of some of our most overlooked communities," said Sen. Warner. "I'm glad to see the private sector working with us to leverage returns on public investment while investing in entrepreneurs and small businesses in communities of color and other financially underserved areas."
"This exciting benchmark is just the beginning of support for underserved and rural communities across the country," said Sen. Crapo. "The private sector's partnership in investing in these communities is crucial for the long-term sustainability and economic growth of areas most in need."
"Our economy works best when capital is unlocked across races and regions," said Deputy Secretary of the Treasury Wally Adeyemo. "Today's announcement reflects the impact of a coordinated partnership between the public and private sectors to address economic inequality across the nation and maximize the impact of the Biden-Harris Administration's unprecedented investments in underserved communities."
"CDFIs and MDIs are proximate to communities. They exist to support small businesses, aspiring homeowners, community infrastructure needs, and the development of affordable housing," said Michael Roth, Co-lead of the Economic Opportunity Coalition and Co-CEO of Next Street. "Moving deposits to these kinds of community-based lenders facilitates access to credit in communities where traditional financial services are limited, unavailable, or unaffordable. That's why this EOC milestone is really also a call to action. We know 1 billion dollars isn't enough; it's just the start." said Roth.
Launched by Vice President Harris last July, the Economic Opportunity Coalition is a group of more than two dozen corporations and philanthropies that committed to making major investments in communities of color to address economic disparities and accelerate economic opportunity. Representatives of the Coalition at today's event included leaders from Wells Fargo, Next Street, KeyBank, TIAA, Citi, and Bank of America.
"Senators Warner and Crapo and Treasury Deputy Secretary Wally Adeyemo have been amazing champions of getting resources to CDFIs and MDIs that are serving communities of modest financial resources. The Emergency Capital Investment Program (ECIP) was a true game-changer, providing equity investments that mission-based financial institutions could use to attract $8 of additional deposits and debt for every $1 of ECIP investment. Hence, the $8+ billion of ECIP investments will over time create $100 billion of lending capital that can be recycled at least 3 times over a 10-year period," said Martin Eakes, CEO, Self-Help Credit Union. "I know this sounds complicated, but the bottom line is that the actions of these leaders and their associates will produce more than 1 million new homeowners and tens of thousands of new businesses in communities of color, and in other rural and lower wealth communities all across the country."
"Black-owned Optus Bank has exponentially grown its balance sheet and, more importantly, its impact on high-potential underestimated communities," said Dominik Mjartan, President and CEO of Optus Bank. "With transformational investments from the private sector, we have been able to leverage the recent ECIP investment to more than double the bank's loan portfolio in 2022 while directing more than 90% of our loans to mission-aligned communities."
"These commitments ensure that CDFIs and MDIs are equipped to significantly expand impact to working Americans who have historically struggled in the pursuit of economic prosperity," said Darrin Williams, Southern Bancorp, Inc. CEO. "Combined with the ongoing support from Congress and Treasury, our industry has never before been as equipped to fulfill our mission of reaching the financially underserved – from rural America to our urban centers – we are building the capacity to finance the positive economic change needed in our country."
"Public and private investments are essential to closing wealth gaps in America and enabling lasting financial health and resilience, including throughout retirement. As a founding member of the EOC, TIAA is proud to contribute to this critical funding milestone and to advance collective engagements that unlock resources for innovators, business owners and other leaders in underserved communities," said W. Dave Dowrich, CFO at TIAA. "Supporting the holistic financial well-being of communities to help achieve longer-term equitable growth goes hand-in-hand with our efforts to ensure all Americans can retire with dignity and financial security. As too many Americans navigate economic challenges, these investments demonstrate that bipartisanship and cross-sector collaboration can deliver scalable and sustainable solutions that can meaningfully change lives and improve communities."
"We are strong supporters of the Economic Opportunity Coalition and congratulate the organization on reaching the goal of $1 billion in deposits that will be placed with CDFIs and MDIs. These organizations are a critical part of the lending ecosystem for underserved communities, and we look forward to helping them grow and better serve their local markets," said Charlie Scharf, CEO of Wells Fargo.
"Citi is able to use our robust balance sheet to provide access to capital for our MDI partners that have historically faced higher burdens for raising capital, enabling them to enhance their support for individuals and businesses in underserved communities," said Citi CFO Mark Mason. "In addition to joining in the Economic Opportunity Coalition's $1 billion announcement today, Citi and the Citi Foundation are deepening our efforts to support CDFIs and MDIs and we are eager to work with the EOC to expand the net even further to help solve the significant, unmet need."
"KeyBank embraces the opportunity to partner with Community Development Financial Institutions (CDFIs) and Minority Depository Institutions (MDIs) through the Economic Opportunity Coalition," said Chris Gorman, CEO and Chairman of KeyCorp. "At Key, our purpose is to help our clients and communities thrive. In partnership with CDFIs and MDIs, we are bringing that purpose to life by expanding banking services in our neighborhoods and bringing more capital-building tools to underserved communities. We appreciate the leadership of Senators Warner and Crapo, and the Treasury Department's commitment to an inclusive economy."
"Promoting investment and economic opportunity in underserved communities is critical to reaching the U.S.'s potential to enable growth that is also inclusive. McKinsey & Company is proud to be a founding member of the Economic Opportunity Coalition, and will to continue working with our partners to support this critical goal," said Bob Sternfels, McKinsey's Global Managing Partner.
"Today's one billion funding announcement reflects the Coalition's commitment to taking meaningful actions to accelerate economic opportunity in underserved communities across the country," said Nat Hoopes, Vice President and Head of Public Policy and Regulatory Affairs at Upstart. "Upstart is proud to contribute both dollars and our AI technology to support CDFIs and MDIs in their important work to expand access to affordable credit."
"This milestone is a testament to the power of public private partnerships in accelerating economic opportunity," said Dan Schulman, president and CEO, PayPal. "Continued investment in CDFIs and MDIs is critical to building thriving communities and creating transformative change. PayPal is proud to be a founding member of this effort and we look forward to the continued collaboration."
###