Priorities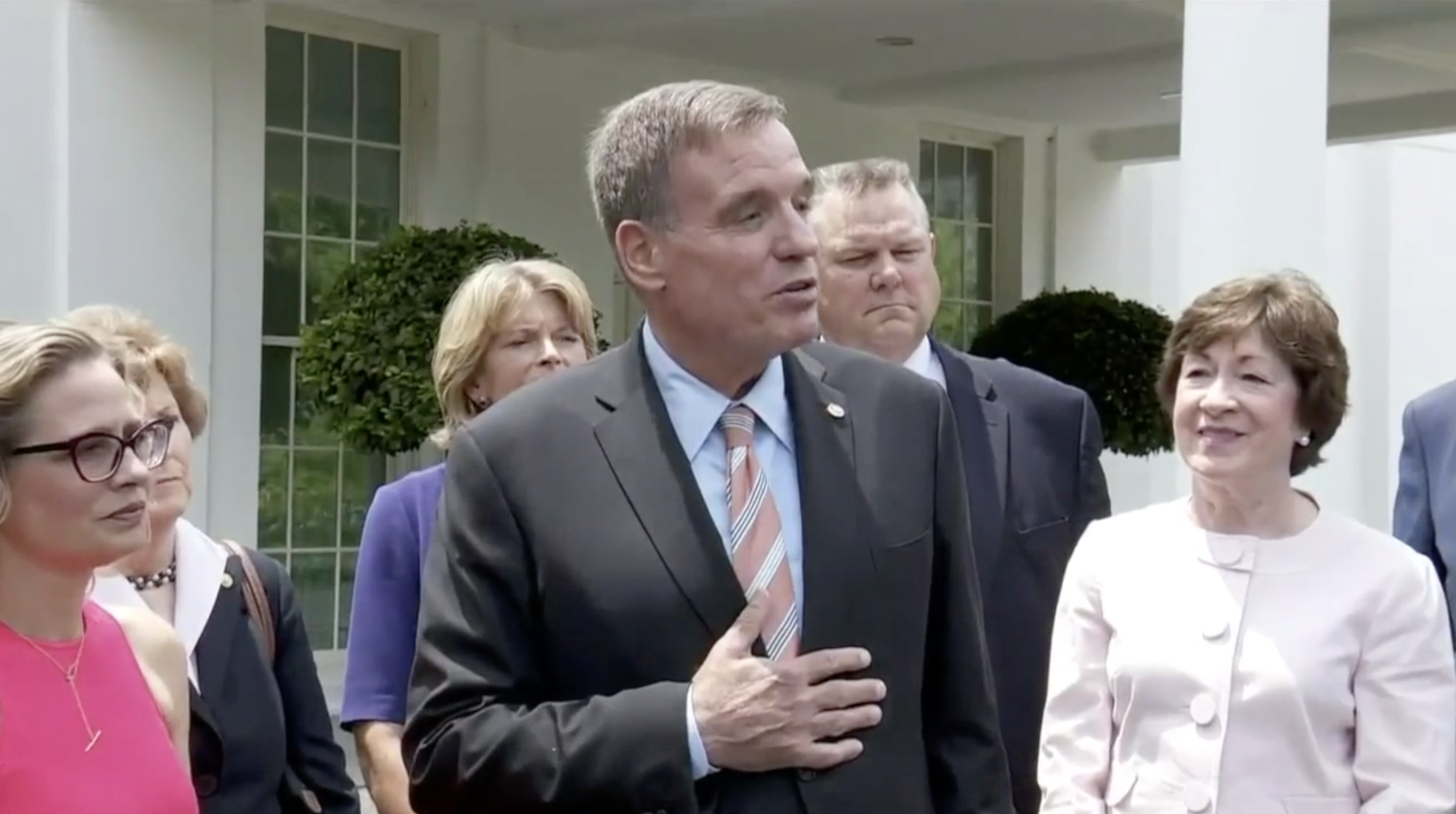 Sen. John Warner As Inspiration For Bipartisan Infrastructure Deal
by Michael Martz
in Richmond Times-Dispatch
U.S. Sen. Mark Warner had just met with President Joe Biden and nine other senators to seal a bipartisan deal with $579 billion in new spending on public infrastructure — highways and bridges, rail and public transit, broadband telecommunications, the electric power grid and electric vehicle charging stations, and protection for flood-prone coastal communities.
Outside the White House on Thursday, Warner took a moment to praise the late Sen. John Warner, a Virginia Republican whom he had eulogized at the Washington Cathedral the day before, as an example of bipartisanship leadership for Congress to get important things done for the country.
"My hope is when this framework [for an infrastructure bill] becomes law, that we do it in the spirit of John Warner, and I would hope to convince my colleagues that we should name this legislation after him," he said, flanked by Sen. Susan Collins, R-Maine, and Sen. Joe Manchin, D-W.Va., among the 10 senators who had met with Biden to reach the agreement.
"We all commended his ability to work with people across party lines and the fact that he always put country first," Warner said, "and I think my colleagues have demonstrated that again."
The moment was big for Virginia's senior senator, who in his third term in the U.S. Senate has emerged as a player in reaching bipartisan agreements in a chamber equally divided by party and split by the same polarized political forces as the country. Warner had learned the hard way that reaching bipartisan agreement in the Senate wasn't as easy as he had expected.
In the past year, Warner helped to secure funding for national parks in the Great American Outdoors Act and a $900 billion emergency COVID-19 aid package — both in a Senate controlled by Republicans with President Donald Trump in the White House.
This year, with Biden in the Oval Office and Vice President Kamala Harris casting tie-breaking votes in the Senate, he pushed for passage of the United States Innovation and Competition Act, which includes $52 billion to revive domestic manufacturing of semiconductor chips, potentially seeding the return of chip manufacturing to places such as Henrico County. He partnered with Sen. John Cornyn, R-Texas, on the so-called "CHIPS for America" provisions in the bill.
"I like the job a lot more," he said. "I'm putting points on the board. I can point to things that affect Virginians' lives."
The infrastructure agreement has a long and potentially perilous path before it would become law, but Warner said it would bring major benefits to Virginia — helping the state's ambitions to expand passenger rail service with a $66 billion commitment to rail and the biggest federal investment in Amtrak in history.
"When we can make a once-in-a-generation investment in Amtrak, that's a big deal," he said.
Joe McAndrew, vice president for transportation at the Greater Washington Partnership, said the framework reached Thursday would make a big difference in plans to run passenger trains between Richmond and Washington almost hourly within the next decade.
"How do you do the whole D.C. to RVA faster? You need money," McAndrew said.
The package also includes $49 billion for transit, which he said could help Richmond's efforts to expand bus rapid transit and transform bus service in the region.
"Richmond is primed and the state of Virginia is primed to be partners and recipients of the money," McAndrew said.
Expanding broadband telecommunications networks — and making high-speed internet affordable — would get $65 billion, on top of the federal money already committed in the relief package passed in December and the $1.9 trillion American Rescue Plan Act that Biden signed in March.
"As we await further details about the specifics of this bipartisan proposal, I will keep working to make sure central Virginia's urgent physical infrastructure priorities — including expanded broadband internet access — are included in infrastructure-focused legislation eventually passed by Congress and sent to President Biden's desk," Rep. Abigail Spanberger, D-7th, said Thursday.
The framework includes $73 billion to upgrade and protect the electric power grid; $7.5 billion each for electric buses and charging stations for electric vehicles; $55 billion to replace lead pipes and upgrade drinking water systems; and $47 billion for "resilience" projects to protect coastal areas against rising seas because of climate change.
"There are two places that are ground zero for resilience in America — one is New Orleans and one is Hampton Roads," Warner said.
The biggest part of the package is $109 billion in new spending for roads and bridges, the traditional infrastructure projects that also will be addressed in a new surface transportation bill being written on both sides of Congress.
The new spending would come on top of about $394 billion in baseline appropriations for infrastructure projects that would bring the total to about $974 billion. Warner also predicts that a proposed $20 billion investment in a new financing bank could leverage an additional $200 billion.
Politically, however, the infrastructure deal would be paired with a budget reconciliation package that could include trillions of dollars in new spending that Republicans won't support.
Biden pushed the American Rescue Plan Act through Congress without Republican votes, but he made clear Thursday that he prefers political compromise.
"When we can find common ground though, working across party lines," he said, "that is what I will seek to do."